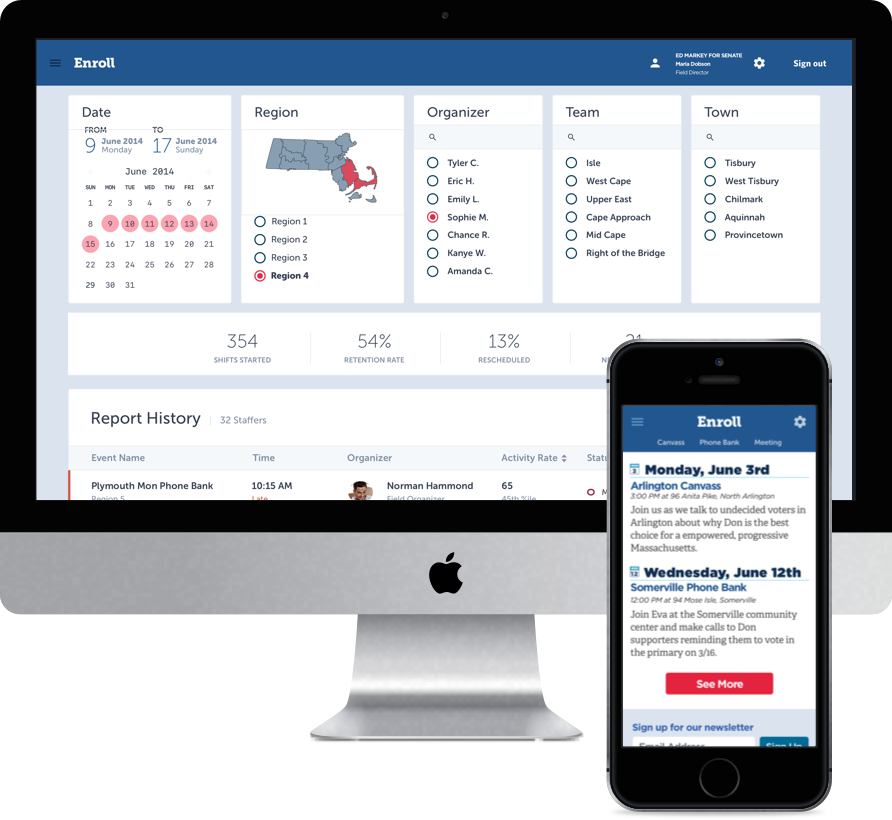 Enroll
event management, simplified
Client

Berwick for Governor

Role

Designer & Developer
Summary
We needed a signup process that could be generated without additional overhead, that was designed accessibly for volunteers with a range of technological understanding.
—

Challenge: provide tools to manage event sign up and sign in

—
Needs Assessment
Every campaign staffer travels with clipboards, pens, and signup sheets. With paper signup sheets, staff worked late into the night entering event signups into the database. To add insult to injury, even after the event was over, staff would have to repeat the process with sign-in sheets to confirm who had attended. We needed a process that would reduce time spent entering data without creating additional overhead for staff who were already creating events in the database one at a time.
Requirements
We needed a web-based solution that could be accessed by old, old machines running Windows XP and using IE. The solution had to be usable at varying levels of technical competency to match those found among campaign volunteers. Finally, we had a flat time budget: any solution that moved beyond paper had to be as fast or faster.

Iteration
We first targeted low-hanging fruit: staff time spent on data entry from paper sign in sheets. Designed a faster interface for staffers to enter the day's data, moving beyond industry tools that only provided a GUI for entering data one row at a time. Data entered was exported as a CSV and could be uploaded in bulk to industry tools. Next, we deployed a companion digital sign in tool for volunteers to use when beginning and ending a shift. Finally, we used the event database to provide event listings for volunteers to sign up online, at a fraction of the cost of third-party solutions.
Solution
Provides online signup, allows staff to create events quickly, interfaces with Tally to provide event data, exports CSVs to provide backwards compatibility with industry tools.